Incorporated since 1982, SIAA is a professional association for companies and professionals in the Automation, Internet-of-Things (IoT) and Robotics sectors. To date, SIAA has about 500 active member companies and professionals, representing different industry verticals such as smart cities, buildings, logistics, retail, transportation, tourism, healthcare, and manufacturing.
Thought Leadership and Activities
SIAA plays a crucial role in galvanizing the Automation, IoT and Robotics business community, through its extensive line-up of highly-valued programs and events, namely:
Flagship events. Since 2014, SIAA has co-founded two marquee events – IoT Asia (www.internetofthingsasia.com) and Singapore International Robo Expo (www.sire.com.sg).
Thought leadership sharing sessions on retail, tourism, smart cities, manufacturing, healthcare and robotics, with the Institute for Infocomm Research (I2R), IDC Asia, Employment and Employability Institute (e2i), Singapore Chinese Chamber of Commerce and Industry (SCCCI), Innoecho and Wavefront.
Study missions, such as Innorobo 2015 @ Lyon, France, IoT in Retail International Conference @Taipei, Taiwan and Robot World 2014 @ Seoul, Korea.
Regional collaborations. SIAA has signed MOUs with various regional partners to facilitate exploration of business opportunities in the regional markets. Our partners include Institute for Information Industry (Taiwan), Malaysian Robotics & Automation Interest Group (myRAig) and Korea Association of Robot Industry (KAR).
Trade collaborations. SIAA collaborates with various trade associations to aggregate demand-side opportunities for our members. Our association partners include Association of Singapore Attractions (ASA), Association of Medical Device Industry (AMDI), Association of Electronic Industries in Singapore (AEIS) and Singapore Chinese Chamber of Commerce and Industry (SCCCI).
Exploring overseas market. SIAA organizes the Singapore Pavilion for exhibitions under IMAP from International Enterprise Singapore, allowing members to participate in regional trade shows to establish their brand overseas.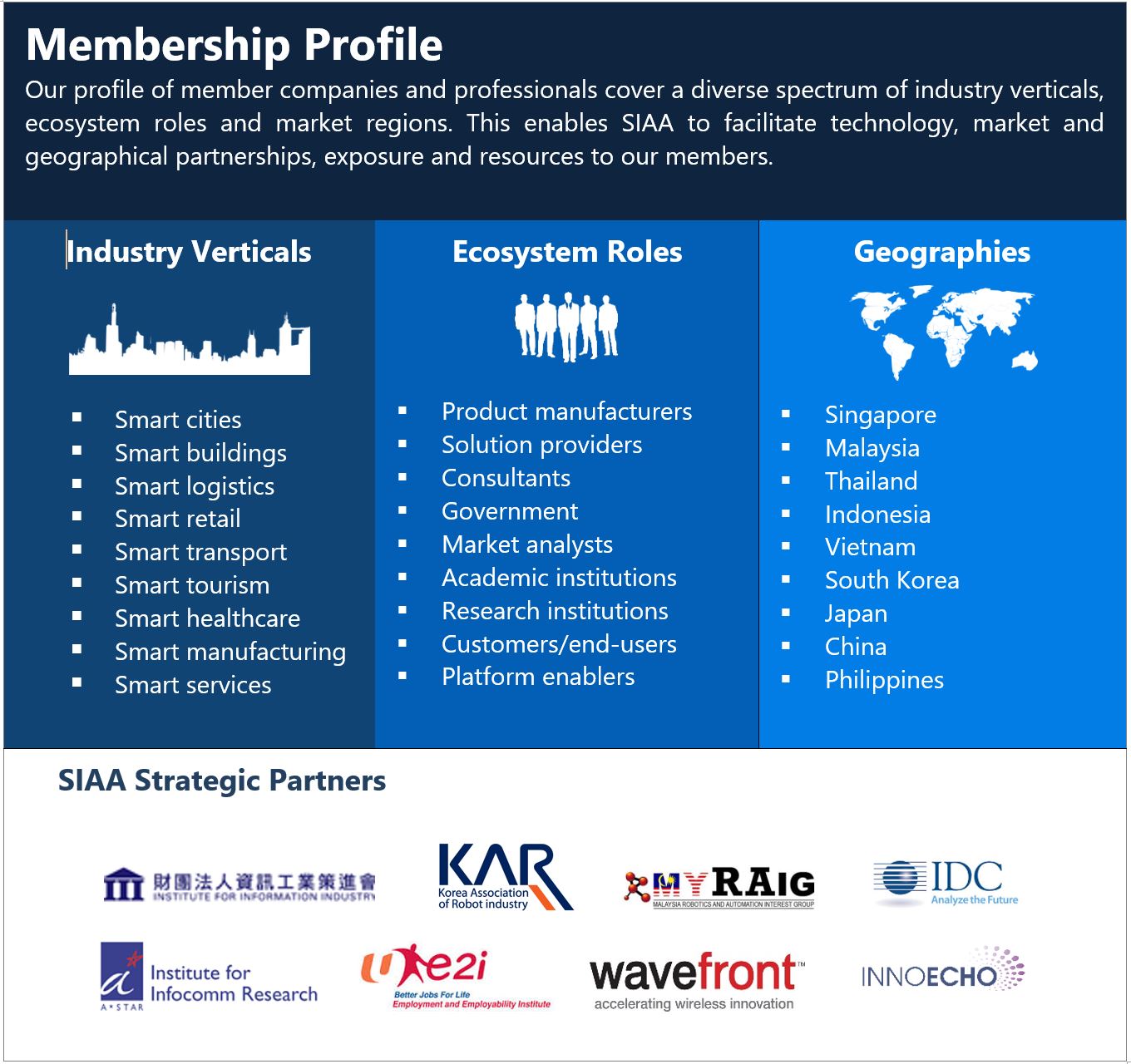 Join Us Today
Participate in our extensive programs today and leverage on SIAA as a powerful regional platform to expand your networks and increase market opportunities in the Automation, IoT and Robotics sectors. Join us now!
To learn more, visit www.siaa.org/membership or contact us at secretariat@siaa.org.
Singapore Industrial Automation Association (SIAA)
1010, Dover Road, #03-10, Singapore 139658.
Tel: (65) 6749 1822