Vietnam Industrial Automation Fiesta 2019 (VIAF 2019)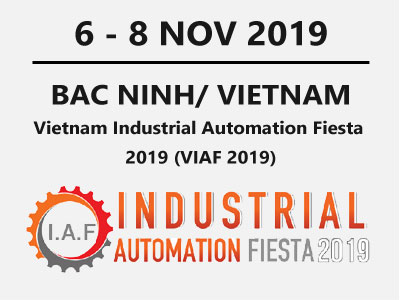 VIAF – Vietnam Industrial Automation Fiesta 2019 – Northern Chapter in Bac Ninh is introduced in assisting industrial suppliers, engineering services and sub-contractors to meet with local industries' end users, engineering companies, OEMs, sub-contractors in general manufacturing and high technological precision manufacturing. The exhibition is aiming at the maximum interaction among industry personnel from Plant & Factory Engineering, Production, Maintenance, R & D & Project Engineering , QA / QC & Lab, Safety, Environmental, Facility Management, Purchasing and other engineering related departments to get updates on technologies being applied to the industries.
Through expert-led presentation and displays, we welcome leading industrial companies from around the world and all over Vietnam to exhibits and update technologies to the growing manufacturing, process industry and quality control and R&D.
Holding alongside with the high profile of these industries in the area, machine tools and metalworking, metrology and measuring tools, 3D print for additive manufacturing, sheet metalworking, software for manufacturing, tools and tooling systems, contract manufacturing, welding and coatings are brought in together to the exhibition to service the manufacturing industries.

---