Cejn Products Far East Pte Ltd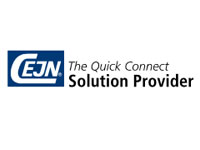 CEJN Products Far East was founded in 1982. CEJN Singapore maintains its great reputation as the top quick connect coupling specialist in Southeast Asia country. We do not just offer technically ambitious solutions for increased efficiency and excellent design, but also provide comprehensive service skills.
Our headquarters in Skovde, Sweden where we develop, manufacture and market quick connect couplings and accessories within the field of pneumatics, hydraulics and fluids. CEJN's headquarters and production facilities in Skovde are certifies in accordance with ISO 9001 and ISO 14001.