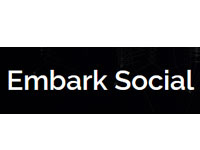 According to Gartner, the definition of Digital business transformation is the process of exploiting digital technologies and supporting capabilities to create a robust new digital business model.
Since 2007, we have been helping companies in their digital business transformation journey. In 2014, we rebranded ourselves as Embark Social with the aim to transform business to be social to win trust from their customers and target audience.
We help companies discover return on investment in digital business transformation by turning their business model digitally reaching more customers in a shorter time to achieve their goals.
For companies who struggle with digital business transformation, our expertise provides holistic yet powerful solutions for owners so they can focus more on doing what they love and less on trying to solve and overcome these challenges.
Our team member consists of practitioners in Digital Business Transformation and has a total of more than 25 years of experience in various roles and a wide diversify of industries in this field.
Our Vision
The Preferred Partner for Digital Business Transformation
Our Mission
To Win trust for businesses by embarking them through Digital Business Transformation
Our Core Values
We Build Trust For Brands