CCP – THE PROGRAMME THAT SUPPORTS YOUR HIRING
Career Conversion Programmes (CCPs) are for mid-career Professionals, Managers, Executives and Technicians (PMETs)  to undergo skills conversion and move into new occupations or sectors that have good prospects and opportunities for progression. SIAA is the Programme Partner for the CCP in Advanced Manufacturing. The target beneficiaries are Singapore citizens or Singapore permanent residents who are seeking to acquire new skills, switch careers and take on new jobs in the Engineering roles.
CCP supports companies by alleviating some risks as employers hire, train and develop mid-career PMET from other sectors to take on new jobs This allows companies to expand their search for workers, looking beyond fresh graduates and plug and play workers.This CCP integrates job-matching to help jobseekers and companies find suitable roles and candidate as Assistant Engineers and Engineers.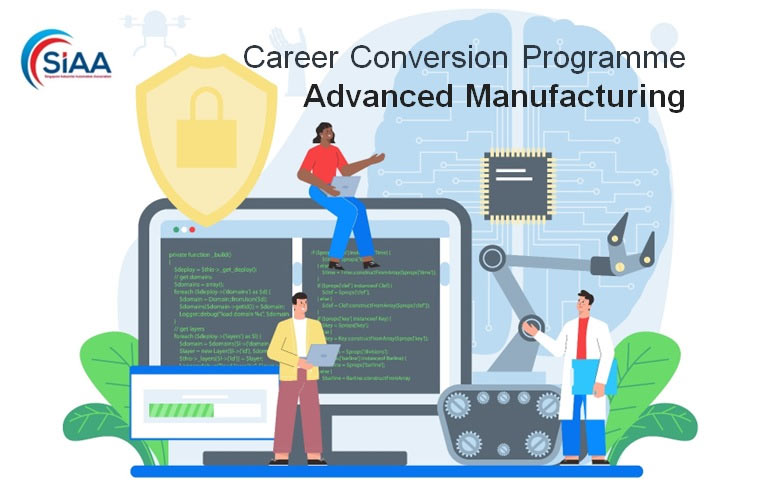 Automation Engineer

IoT Application Engineer

Field Support Engineer

Manufacturing Engineer

Maintenance & Support Engineer

Product Development Engineer

Robotics Engineer

Software Engineer

Sales & Marketing Engineer

Quality Assurance Engineer
Benefits for Both Your Company and Employees
New Hire: Widen your choices of talent by hiring the mid-career individuals without prior experience and provide on-the-job training for their new roles
Redeployment or Job Redesign (JR) Reskilling: Targeted at companies that are undergoing business transformation. Their workers  will be reskilled to take on new job roles or redesigned job roles that are of higher value-add within the same company.
Salary support up to 90% for Singaporeans and Permanent Residents 
Contact Us To Indicate Your Interest
If you are interested in this programme, please write to ccp@siaa.org