Factronics Systems Engineering Pte Ltd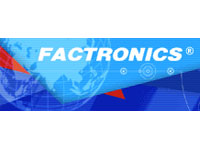 Factronics Systems Engineering Pte Ltd is a full-service engineering company based in Singapore. Our expertise lies in a wide range of advanced factory and warehousing automation applications.
We are a Systems Integrator and specialise in the provision of turnkey Factory Automation (FA) solutions. Our capabilities extend across the conceptualisation, design, supply, installation, commissioning, and maintenance of total FA systems. We also provide industry-specific consultancy and project management services to meet our customers' needs.